Things to do in Houston – Week of 19 Dec 2021
Posted On December 20, 2021
---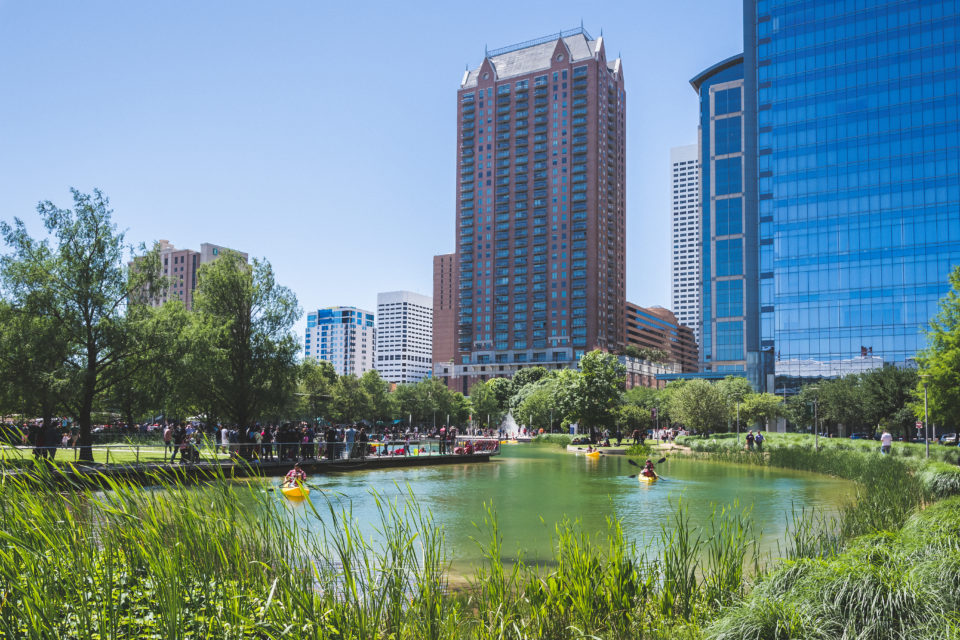 Houston, a buzzing metropolis, is one of the most diverse cities in the country. Right from world-class institutions like the Museum of Fine Arts and the city's incredible art scene to the public works that call Downtown Houston home and opportunities to watch the pros calf-rope at the world's largest rodeo, Houston never fails to deliver an element of fun, excitement, and adventure.
Planning to visit Houston in the week leading to Christmas or want to find out all the fun things to do in your hometown? We can help you find the best activities and things to do in Houston.
Dine at Santa's Big Feast
The 8th Wonder Brewery and Distillery hosts this 2-day (18th and 19th Dec) food festival where visitors can get a taste of all the global flavors offered by over 20 vendors, all under one roof. From Black Market's famous Birria and Teacup Cafe's Boba Drinks to LLL creations' Christmas log cakes and hot chocolate bombs, dining at Santa's Big Feast is bound to add some quality cheer to the life of the food enthusiast.
Friendly tip: The dog-friendly event is a one-of-its-kind phenomenon, so you may want to lose the tight-fitting pants in favor of stretchable ones.
Address: 2202 Dallas Street | 2201 Dallas Street
Timing: Noon to 8 p.m.
Price of Ticket: Free. Register here.
Website: https://8thwonder.com/
Take The Christmas Train in Alvin
Ride the family-friendly, old-fashioned train that takes you through Christmas scenery, gingerbread villages, and 300,000+ Christmas light displays. Reminisce with the modern retelling of the traditional Christmas story and nativity en route to enjoy a unique holiday experience.
Don't forget to take pictures while leisurely strolling through the lighted walking trail, enjoy the Great Elf Show, a highly immersive and interactive performance, and binge on holiday food to wrap up your visit to Alvin.
Address: 1407 Victory Lane, Alvin, Texas 77511
Timing: Weekends-6:00-9:00 p.m. Weekdays-6:00-10:00 p.m
Price of Ticket: Train tickets start at $10. Free for kids two and under. Reserve in advance to avoid the long wait time.
Website: https://www.thechristmastrain.com/
Run the Santa Hustle 5K & Half Marathon
Santa is coming and what better way to celebrate than by joining in the festival of love? So don your festive Santa gear and get ready to join hundreds of participants (or faux Santas) in the annual holiday tradition in Galveston. Your tiny tots can join in the fun by participating in the Kids Dash. After all, why should adults have all the fun?
To commemorate the event, every participant—whether they reach the crossing line or first or last—will be given a zip hoodie of their choice and, to add to the holiday cheer, a Santa's hat, and beard. That's not all! Participants will also receive a finisher's medal from taking home as a keepsake.
Address: 5222 Seawall Boulevard Galveston, TX 77551 United States
Timing: Sunday, December 19, 2021. 8:00 a.m.
Price of Ticket: Starts from $49.99 (for adults). Kids dash costs $10. Prices tend to rise as you move towards race-day, so register well in advance here.
Website: https://www.sanluisresort.com/
Skate with the Stars at Discovery Green
Embrace the holiday cheer by gliding beneath the glittering lights at Discovery Green Park's ice-rink. If you have a kid under 12 and are not big on skating yourself, you can sit back in the viewing area just outside the rink to watch the little human in your life smoothly glide through the ice.
Skaters will also have the opportunity to watch Houston's top figure skaters perform demonstrations on The ICE powered by Green Mountain Energy and skate alongside them. Weather conditions may influence the timing so make sure to consider that while scheduling a booking.
Address: 1500 McKinney Street Houston, TX 77010
Timing: Weekly on Tuesday-7:00 p.m-7:15 p.m
Price of Ticket: $15 + tax. Book here.
Website: https://www.discoverygreen.com/3262518
Laugh out Loud at the Holiday Special Presented by the Riot Comedy Show
Live, Laugh, Love at the Riot, featuring some of Houston's funniest comedians, is THE place to go to for a fun date night.
The Comics Panel features the funny (and insightful!) take of the comedians on holiday dating and relationships. This legendary show even offers to answer your relationship questions! The Holiday Special offers a main course of side-splitting comedy with a side of great food and wine to wrap up your evening perfectly.
What better way to reel in the new year than by sharing laughs with your family, friends, or partner!
Address: Rudyard's 2010 Waugh Drive Houston, TX 77006
Timing: December 23, 2021. 7:30 p.m. to 9:00 p.m.
Price of Ticket: General Admission – $10. If you're paying at the door – $15. Prices differ for VIP and Reserved Tables. Register here.
Website: https://theriothtx.com/
Eat Christmas Brunch at the Woodlands Resort
From chili brined bone-in pork loin roast, whole roast goose, evo-seared wahoo to marinated mushrooms and seasonal vegetables, the Christmas Day Holiday Brunch has it all. Served in the Grand Ballroom, this Christmas brunch showcases each of the resort's five chefs' inviting fares.
And that's not the end of it! You can also build your own Mac and Cheese and binge on breakfast specialties like fruit parfaits, waffles, pancakes, and French toast. Then, top it off with pastries and desserts to enjoy a complete brunch experience.
Address: 2301 North Millbend Drive, The Woodlands, TX 77380
Timing: December 25, 2021, 10:00 a.m. to 3:00 p.m.
Price of Ticket: $75 for adults, $32 for kids ages 5 to 12. Book here.
Website: https://www.woodlandsonline.com/evps/evitem.cfm?evid=155223
Paint Your Heart Away at Who'ville Paint Party
A Who'ville-themed paint party with a hilarious special appearance from the Houston Grinch himself would be just the right way to bring in the Holiday cheer. You will also get to take home a physical and a digital copy with the cynical grump, the Grinch, to commemorate the event.
A Who'ville-inspired masterpiece might be all that's needed to bring some happiness into the mean Mr. Grinch's life. Wouldn't you agree?
Address: 11002 Westheimer Rd Houston, TX 77042
Timing: December 23, 2021, 12:00 p.m. to 4:00 p.m.
Price of Ticket: $8. Includes pictures with The Grinch. Book your tickets here.
Website: https://www.primarypaintparty.com/events
Shop at Braeswood Farmers Market
Shop from the impressive range of fresh produce, prepared foods, jams, and baked goods at the Braeswood Farmers Market. Then, if you're feeling generous, make sure to stock up on the same to gift to a local charity (if they accept non-monetary donations). You can also explore other Farmers Markets here to find the most convenient one for your holiday grocery shopping.
And while you're busy shopping, don't forget to catch a break in between and taste the delicious local delicacies from one of the many food trucks in the area.
Address: 8620 Stella Link Road Houston, TX 77025 United States
Timing: December 25, 2021, 9:00 a.m. to 1:00 p.m.
Price of Ticket: N/A
Website: https://www.facebook.com/braeswoodfarmersmarket/
Do you have a favorite Farmer's market in Houston? Or a favorite hotspot from the listings discussed in this article? Let us know down below.
And while we're on the subject, you might as well explore the area around Houston and familiarize yourself with its arts and events scene to broaden the scope. The more events to attend, the merrier, right?
---