Top 12 Things to Do with Kids in Katy, TX
Posted On August 13, 2022
---
Are you planning a family trip to Katy, Texas? Only half an hour away from Houston, this small city offers many things to see and do with its parks, museums, and malls. In the late 19th century, it served as a railroad town as a part of the Missouri-Kansas-Texas Railroad line. It is a fascinating place that is well worth a visit with the whole family.
Here are the best child-friendly things to do with kids in Katy:
Mary Jo Peckham Park
This public park has several children's playgrounds, walking paths, and picnic tables. This is ideal for families who want to spend some time outdoors. There is a big fishing lake with anglers and ducks.
This is part of the Neighborhood Fishin' Program of Texas and offers an opportunity for fishing. If you just want to relax, Mary Jo Peckham Park also has a gazebo, a disc golf course, and big trees.
There is also a back-to-school bike ride happening on August 13 at 8:30 AM. It is organized by the Katy Bike Knights, which regularly rides in and around the park. Active families and cycling enthusiasts will certainly enjoy joining them.
Site: https://hcp4.net/parks/mary-jo-peckham-park/
Katy Heritage Park
Made to resemble an old village, the Katy Heritage Park has several buildings that guests may access. Among other things, it has the Humble Oil Recycling Plant mess hall and a historic post office. It offers a glimpse into how the city used to look when it was still a railroad town during the 1800s.
There are sightseeing tours on the first weekend of the month, so time your visit to coincide with that day to give the kids a dose of cultural and heritage education.
Site: Katy Heritage Park
Great Southwest Equestrian Center
When in town, you can drop by the Great Southwest Equestrian Center for an exciting experience. It is the site of several of the most prestigious equestrian shows in the country!
There are many regular events hosted at this center throughout the course of a year with the sole exception of the month of July. Kids will surely enjoy watching competitions and seeing the different disciplines and breeds in action.
Visit them online at: https://www.gswec.com/
MKT Railroad Depot and Park
The Missouri-Kansas-Texas Railroad Company used to be called the "Katy Railroad." This city served as the water stop of the steam engines' en route to Houston. This service had been in place until 1957.
Beside the railroad tracks, you will find the Katy Heritage Society Railroad Museum. There are a lot of original artifacts from those days on display. You might also want to take a photo at the MKT caboose out front since it is an iconic symbol of Katy.
Site: https://katyrailroad.org/
Central Green
This green space spans half an acre of the Willow Fork Drainage District. Central Green is a great place to visit when you want to grab a cup of Joe, go for a walk, or enjoy outdoor entertainment.
The lawn seating and natural stone seating are ideal for movie nights with the family. When you start getting hungry, you can find LaCenterra nearby with its multiple dining options.
Central Green: https://www.centralgreenpark.com/
Katy Market Day
The third Saturday of the month is when the free outdoor market is held by the water tower downtown. It runs from March to November. There are over a hundred vendors selling everything from jewelry to bath products to fresh produce. If you ever find yourself in the area, you might also want to explore the art shops and antique stores nearby.
Site: https://katymarketday.com/
World Theater
This performing arts venue is committed to multicultural community event and productions. It is the site of many theatrical performances from comedy to musicals to drama. Each season also includes performances by Children's Theater. It is a good idea to bring your kids to a show to further expose them to this exquisite art form!
Visit them online for info: http://www.worldtheater.us/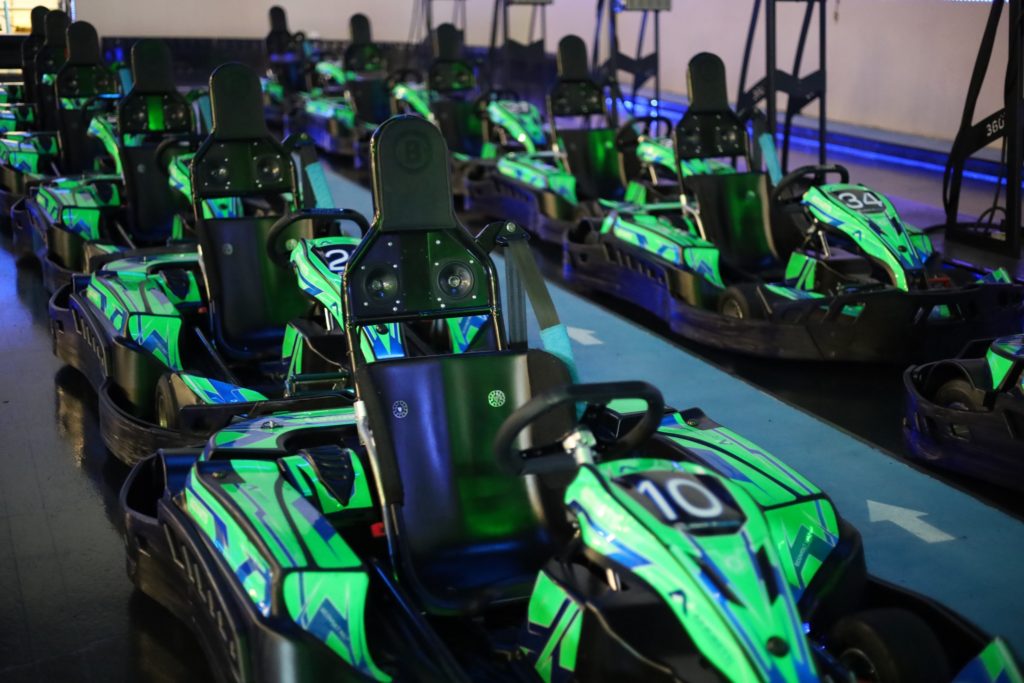 Andretti Indoor Karting & Games
Andretti Katy has a range of rides, games, dining and other things that the children can enjoy under one roof. For instance, children and families get to experience the thrill of driving and racing with Electric karts.
They also have other activities such as Hologate virtual reality games, mini golf, arcade games, and laser tag. You can also find a Food Truck Plaza in Andretti Katy that offers a range of flavors accompanied by full-service dining and a bar.
Site: https://andrettikarting.com/katy
Katy Mills Mall
As one of the biggest malls in Houston, Katy Mills has over 175 shops including H&M, Restoration Hardware, Bass Pro Shops, Neiman Marcus Call, and many more. You can also find various activities inside the mall to keep the entire family entertained such as the AMC Katy Mills 20.
Visit the mall site for more info: Katy Mills
Inflatable Katy
Book an indoor party and enjoy the inflatable attractions at Inflatable Katy. You can also book their outside party package and have it customized to include batting cages, mini golf, and Go Karts. Not to mention, they have a Ferris wheel that the kids are sure to love!
Site: Inflatable Katy
Altitude Trampoline Park
Similar to Inflatable Katy just mentioned above, this is a kids haven. they have 33,000 square foot of indoor trampolines where your kiddos can use up their extra energy. Apart from regular trampolines, they also have some amazing attractions line foam pit, rock climbing wall, trapeze swing and more.
Find more info at: Altitudetrampoline Park
Historic Katy Shops & Antiques
Head over to downtown Katy and find numerous antique shops lining the streets! You can spend hours with your children going over their incredible antique collections. KT Antiques, in particular, greets their shoppers with free cookies and a soda fountain.
You can then head on to Limited Edition Arts and Antiques and browse their impressive display of art-deco prints and movie memorabilia.
No Label Brewery
No Label Brewing Co. is Katy's own craft brewery and offers brewery tours to visitors every day. You get the chance of tasting famous brews such as Ridgeback Ale and El Hefe.
As a kid-friendly brewpub, it has a playground and a constant rotation of live music and food trucks to keep the children engaged and entertained.
Final Thoughts
A lot of visitors only go to Katy as a day trip during a longer stay in Houston. Even so, it is a charming place in its own right. The whole family will surely enjoy visiting this city with its abundance of public events, historical importance, and green spaces!
---
You may also like